What is IntelliJ IDEA?

IntelliJ IDEA is an Integrated Development Environment (IDE) for JVM languages designed to maximize developer productivity.
IntelliJ IDEA is a special programming environment or integrated development environment (IDE) largely meant for Java.
This environment is used especially for the development of programs.
It is developed by a company called JetBrains, which was formally called IntelliJ.
It is available in two editions: the Community Edition which is licensed by Apache 2.0, and a commercial edition known as the Ultimate Edition. Both of them can be used for creating software which can be sold. What makes IntelliJ IDEA so different from its counterparts is its ease of use, flexibility and its solid design.
It does the routine and repetitive tasks for you by providing clever code completion, static code analysis, and refactoring, and lets you focus on the bright side of software development, making it not only productive but also an enjoyable experience.
Features of IntelliJ IDEA IDE :-


Smart code completion: IntelliJ can predict exactly what are you trying to type. It follows context-based code completion.
Chain code completion: It is an advanced feature, designed for auto code competition. This lists the applicable symbols through methods and getters in the present context.
Static member's completion: IntelliJ enables you to use static methods and constants that automatically adds the needed statements to avoid errors.
Detecting duplicates: IDEA searches the duplicate code fragments on the go and gives suggestions to the user.
Inspections and quick-fixes: When IntelliJ detects a mistake, a notification bulb pops up on the same line. Clicking on it gives you suggestions that will avoid you from making a mistake.
Editor-centric environment: Instant pop-ups guide in checking additional information without leaving the present context.
Shortcuts for everything: IDEA has shortcuts for nearly everything, including rapid selection and switching between tool windows.
Inline debugger: Inline debugger enables the user to debug the application in IDEA itself.

Why choose Intellij :-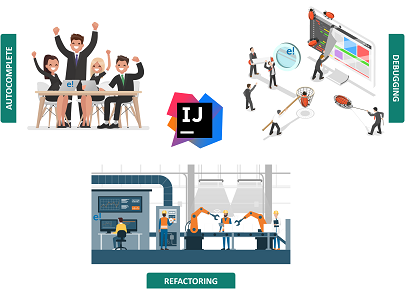 Of course, IntelliJ and Eclipse are both the top-notch IDEs that the Eclipse Foundation and JetBrains respectively had to offer. But, JetBrains also added in some crucial characteristics which developers often look for.
Debugging:- In Eclipse press Ctrl+Shift+I to evaluate the expression. If you fail to select the complete expression, then eclipse cannot evaluate it. But in IntelliJ, you just to hover over to the expression you wish to evaluate and press Atl+F8 and its done.
Auto code complete: IntelliJ has the ability to decode the context and provide suggestions to the user.
Code Refactoring: Unlike the other IDEs, IntelliJ offers intelligent code refactoring. It realizes what exactly you wish to type.

Installation of IntelliJ IDEA IDE :-
We will install IntelliJ from the official site of Jet brains and remember to choose the version as per your requirements. Few prerequisites are:
1.A programming language like Python, Scala and Java. Here we shall choose Java.
2.Download JDK and JRE.
3.Set Java Home and Java Path.
4.Download IntelliJ IDEA IDE Community Version.
5.Go to downloads and extract IntelliJ

Let us first begin with Windows:-
1. Run the .exe file
2. If you wish to work with some build tools and frameworks like Gradle, Maven and Spark, then you need to install them as well and set up the home path requirements for them too.

Getting Started with IntelliJ IDEA IDE :-
It is important that you must know how to interact with your IDE in order to be an efficient programmer. The typical User Interface of the IDEA looks as follows.
Menu bar: Menu bar includes all the options for you to create new projects and code refactoring, auto code builds, run/execute code, code debugging options.
Toolbar: Toolbar has the shortcuts to compile, debug and run functions.
Navigation bar: The Navigation bar enables easier Navigation within a project. This feature comes handy as codebase increases.
Tools tab: You can access crucial tools like databases, Maven, and Gradle build-tools and many more from the tools tab.
Project perspective: Project perspective window holds packages, modules, classes, external libraries and many more.
Editor window : Editor window allows a user to write code with highlighting and other important features.
Plugins: File –> Settings –> plugins.
Settings: File –> Import/Export Settings –> OK
Configuring JVM Options and Platform Properties: Help –> Edit Custom VM Options.
Now that we got basic Idea about all the functionalities available on the instrumental cluster, let us start executing some basic programs.


Mr. Arshad Hussain, Assistant Professor, School of Computer Applications, Career Point University, Kota