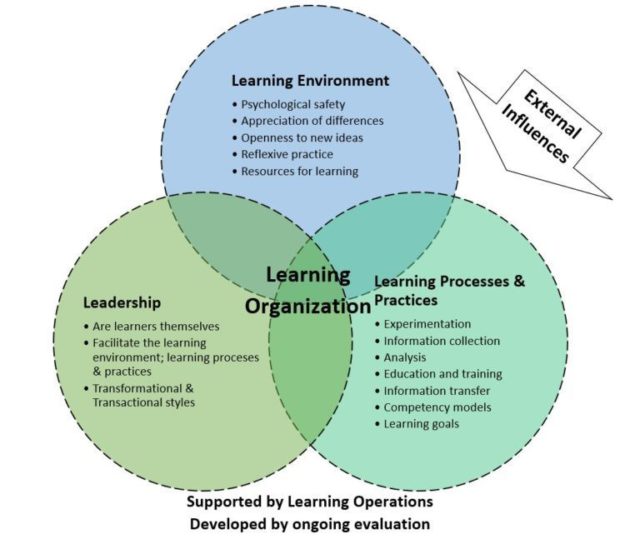 Introduction- Learning is a continuous process and it effluences changes. It is required for an organization to learn to change within the organization. They must learn and adapt the changes for the long term to achieve the competitive advantage. There are many definitions to explain learning organizations. Garvin (2000) defined LO as "A learning organization is an organization mainly focusing on creating, acquiring and retaining knowledge, and by using this knowledge bring favorable changes in the organization." Learning organization can be defined as the organization that provides and facilitates the learning of its members for the continuous transformation. Learning organizations are basically developed as the need to the organization to remain competitive in the business environment. There are several organizations leading in organizational learning; Toyota is an example of that where they employs each problem as an opportunity and after finding the cause develop the alternatives.

A learning organization is having five main characteristics: systems thinking, personal mastery, mental models, a shared vision, and team learning.

Activities of a learning organization
1. Learning organization is mainly involved in the systematic problem solving.
2. Learning organization always experimenting with new approaches by sharing new ideas and gained knowledge by using projects.
3. They always believe in learning from their past experiences and focus on the past mistakes so that they can be rectified and resulted into success.
4. Learning organizations are using the best of others that means they are ready to borrow the best from other organizations.
5. Learning organizations also focusing on transferring and sharing the knowledge within the organization by providing certain training programs.


Why learning organization is essential for an organization • To improve the quality and the performance of the organization.
• For meeting with the requirements of the customers.
• For surviving and succeeding with competitive advantage.
• To manage the change and fulfilling the need of change.

In any organization, there are always certain barriers to any change , so as in case of learning organization a resistance may occurred at an individual level by the people who feel threatened by change or believe that they have the most to lose.
The use of transformational and transactional leadership styles is required in a learning organization. Transformational leaders inspire others and build relationships with followers to develop them and thus leads to the success of a learning organization


Mrs. Garima Tyagi, H.O.D., School of Computer Applications, Career Point University, Kota